---
Mantris - Souvenirs From Imaginary Cities
1x12"
full colour artwork
Rough side printing
black paper innersleeve
33t
300 copies
Total playtime A-side = 19:47
Total playtime B-side = 19:02

---
Various artists
Radio show for Outsiders
Kiosk Radio
2022
---
Cosmo Knex
E-mail interview
Fyoelk, Stenze Quo Musik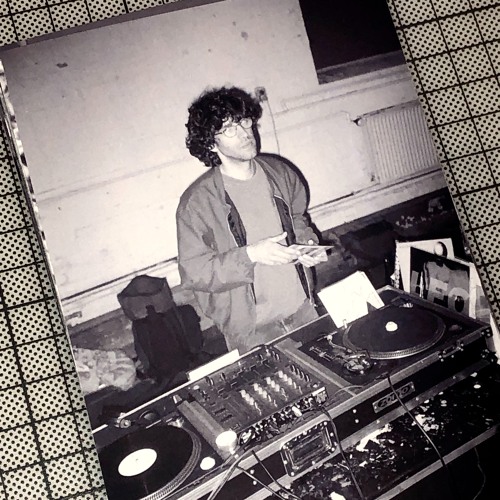 For our next Outsiders we have the honor to host Johann Kauth for a 2 hour trip into the Cosmos.. Johann aka Cosmo Knex, Fyoelk! Musical globe trotter, graphic designer, disk thrower, musical researcher, composer and publisher at Stenze Quo Musik, you name it. A jack of all trades who recently moved with his fam and studio to the beautiful island of Samsø in Denmark. Pré recorded from Samsø.. Enjoy this 2 hour journey into Knex's Cosmos!


1. Where and when were you born and raised ?

I was born in Flensburg, Germany in 1984. When i was 3 we moved out of the city to a house on a hill in the fields.


2. What music did you grow up with ?

Through my parents' occupation as music teachers i digested a good amount of baroque flute and guitar, scandinavian folk tunes and afro-cuban percussion. Starting school in the city in 7th grade was a game changer, as with access to the library there was loads to discover. My friends and i were into stuff like Nirvana, Sonic Youth and Fugazi but also the library had electronic music and some minimal music in the classical section. The library was crazy though, you could borrow a stack of i think 50 CDs or so, my friend and i would listen to them all and then go back to get new stacks. We were pretty much addicted.


3. What kind of music was alive there at the time ?

Back then Flensburg had quite some punk and hardcore shows from bands coming through on the way to or from Scandinavia. There was a small record store with electronic music called Basis (RIP) and a super heavy, mainly 2nd hand store which amazingly still is around called Musikpalast, my both then and now favourite spot for records. I can't understate how important this place was for my involvement with music, and how many incredible, challenging and strange records surfaced from there!


4. What kind of music can we expect in the following two hours ?

When putting together this mix i was thinking quite a bit about traveling, how records travel and so does the music on them. We start with a danish pedagogic tune and south african flute, go into some german and dutch jazz, over US, latvian, british, italian and french disco to a wavy flexi disc, then into more contemporary sounds with a drum workout, a steppers tune, bass music and very high belgian electronics. Two tunes from Cologne both recent and old are followed by some young Düsseldorf punks, rounding off with a very fun Funhouse edit and a handful of old school Chicago and NYC house tracks.


5. As a music connoisseur, enthusiast, producer and collector you started the (cassette) label Stenze Quo Musik in 2015. Can you tell us a bit more about the origins, set-up and roots of Stenze Quo?

Stenze Quo gives me the possibility to publish the music of friends and my own projects. The choice of the cassette medium is an economic one, but also a homage to 80s underground tapes and mixtape culture. The label has been a fairly low key operation from the start, with editions typically ranging from 50 to a 100 copies. Every release is a close collaboration with the artists, where i try to create artwork that compliments the music. In the beginning releases were mainly distributed while touring, while now most is sent by post.


6. The variety of artists such as Tulips, Piyojo, Tav Exotic, Orphan Fairytale, Dolphins Into The Future,.. (to name a few) that you have released is getting quite big. Probably a difficult question.. but were there certain releases that were a highlight for you in the label's existence?

You're right, i can't give you a clear answer. They all hold a special place in my heart.


7. The label has a very recognizable and specific house style. I suspect that as an independent graphic designer you are behind the creation of the graphic design of Stenze Quo? Was there a specific intention behind the creation of the visual identity?

I'm surprised you say it's a house style, as i kind of try to avoid that hehe. Every release should be able to exist on its own. But yeah, i think the overall aesthetic is amplified by the fact that i'm doing most of the art and have been using certain printing techniques, mimeography and screen printing especially.


8. What's on the musical agenda for Stenze Quo Musik, Fyoelk and Cosmo Knex in the future?

I'm currently building a recording studio, which will become the home for many projects. There are forthcoming tapes by beat wizard TBZ out of Cologne and harp player/field recordist/narrator Alexander Holm from Copenhagen. Those two represent two totally different worlds, yet they are cohesive in themselves. That also maybe underlines the label's nature in not being genre-based, each release stands strong in itself and marks its individual powers. The jam hounds of Montel Palmer visited our barn last summer, those recordings might surface soon as well…


9. You moved to Samsø in Denmark a while ago, how's it treating you? There are a lot of interesting things happening on this beautiful island like Terraform, music events.. What's the next happening and how were the previous editions?

Yes, there is a lot going on and the response and support has been fantastic, both from locals and guests! Right now we're harvesting mutsu apples. And preparing an artist in residency program, installing the printmaking studio.. Early next year there will be a group exhibition about and with small publishers in our new project space. With the island's art council we're planning an exhibition and concert programme during summer 2023 around the oeuvre of sound painter and field recording pioneer Knud Viktor. That is super exciting. He grew up on the island, i had no idea!

Here's some channels to check out:

https://stenzequo.bandcamp.com
https://www.instagram.com/johannkauth
https://www.instagram.com/agerupgrafik
https://www.instagram.com/agerupgaard


TRACKLIST

Inger og Morten acc. Grethe Agatz - Ekkoleg
King Kwela - Kwela Spokes
Guem - Ruisseau
Gunter Hampel - (No. 202) Sonnenstrahlen
The Voices Of East Harlem - Rare So Rare
Solution - Divergence
Modo, Zigmārs Liepiņš - Spēlē Vēl
Touch - Love Specialty
My Mine - Dr. Atl
The Creatures - Kid Robot Dance
BBC Radiophonic Workshop - Out Of This World
Deodato - Skatin'
Lio - Comix Discomix
Kasso - On The Sea
Sidney - Hip Hop (Version Instrumentale)
Five Or Six - Black Balloons Drop
Employee - Windy Pipes
Tussle - Nightfood
DJ 2Beers - So Low It Hurtz
Ekiti Son - Gemini Disco
Tav Exotic - Very High
TBZ - from BX LP
Dunkelziffer - Network
Male - Zensur-Dub
S.Y.P.H. - What Happens?
Jellybean - Numero Uno Mix (excerpt)
Xperiment - Karn Evil #10 (Dub)
+ Pierre Henry - Le Voyage + Spuk Disk lathe
Farley "Jackmaster" Funk - The Funk Is On
Dancing Flutes - Do The Do (Do The Flutes)
After Hours - Waterfalls (3AM Mix)



---
Allon Kaye
E-mail interview
Entracte, Universal Exports

1. Where and when were you born and raised ?
I was born in London. I lived there until I was three-years old when my parents moved to Israel. We returned a while later.

2. What music did you grow up with ?
A wonderful mix of things: My dad's records (Beatles, Stones, blues), Italo and so-called Euro Disco, local music in both Arabic and Hebrew, and snippets of the first house and acid records that I heard on the radio and in the first clubs I started going to.

3. What kind of music was alive there at the time ?
Mostly the Euro-Italo stuff.

4. What kind of music can we expect in your mix for Outsiders at Kiosk Radio ?
None that I've mentioned so far.

5. As a music connoisseur, enthusiast and collector you started the label Entr'acte records in 1999, is that right ? Can you tell us a bit more about the origins, set-up and roots of Entracte?

I could but I would be repeating myself.
If anyone's interested:

https://www.commontime.club/p/common-time-076-22-years-of-running.html
and
https://dfe4a33b-7b68-471a-a44d-8ab2ad26bd3d.usrfiles.com/ugd/dfe4a3_7dfc6765ac4947c08ba008eafa4c04d6.pdf

6. The list of releases you have pushed forward with Entracte is huge. How did you come up with such a wonderful list of artists? I can imagine that throughout the more than 20 years of Entr'acte you have spent a lot of time networking and researching different music scenes around the world. Can you tell us a bit more about the way you raised Entracte? Have people been involved in the day-to-day running of the label?
It was just me, and I only released from demos. So I didn't actually do very much.

7. The variety of artists such as Andrew Pekler, Legowelt, Yves De Mey, Lander Geyselink, Roman Hiele, Lee Gamble, ... (just to name a few) that you have released is enormous. Probably a difficult question.. but were there certain releases that were a highlight for you in the label's existence?
Oh, certainly: far too many to list but from the top of my head and the bottom of my heart:


Big City Orchestra (E27)
Scott Taylor/srmeixner (E34)
Esther Venrooy (E30/E50)
Theo Burt/Automatics Group (E80/E130)
Helena Gough (E91)
John Wall/Alex Rodgers (E114)
Dale Cornish (E156)
Keith Moliné (E162)
Joseph Clayton Mills (E167)
Guy Birkin & Sun Hammer (E187)
Brendan Dougherty (E197)
NYZ (E219/E220)
Coppice (224)
Tom Mudd (E226)
The Happy Jug (E227)
Ohad Fishof (E239)


8. The label has a very recognizable and specific identity. I suspect that as an independent typographer and graphic designer you are behind the creation of the graphic design of Entr'acte.? Was there a specific intention behind the creation of Entracte's visual identity? It came about spontaneously, but I always wanted something generic for it rather than a different sleeve for each release.

9. What's on the agenda for Entracte in the future? You started the Universal Exports label a while ago with Yves De Mey & Roman Hiele. Is there a connection between UA and Entra'cte or are these 2 labels completely unrelated? I stopped Entr'acte and quit Universal Exports in July this year.

10. Yves De Mey once told us that you have one of the largest and broadest music collections in his circle of friends. Where and when did you start building your collection and which genres are mainly represented in it? Are you still actively collecting and discovering music?
I was never a serious collector except when I was predominantly into stuff like Coil/Current 93/Nurse with Wound; I owned or tried to get hold of everything they had released to that point. I rarely buy vinyl or CDs these days (and never cassettes). In fact, I sold most of my records a while back. I check out new music regularly but I don't feel that I need to own most of what I come across. I'm easily bored so music really needs to turn me on.